FREQUENTLY ASKED QUESTIONS


Most Popular . . . . . . .
Have you read our step-by-step Guide to Registering and Loading Properties ?
A detailed guide on How to Select Brokers by area.


We already have a good website. So why the need to list here ?


Your website probably has a primary function to showcase your properties to existing clients and to those who discover your website through internet search initiatives.

Broker Junction, however, displays your selected properties to the broker community as a whole where broker-to-broker communications develop. And, of course, we also make it easy for prospective clients to contact you for new relationships.

Being a directory service, the site scores high search engine relevance as a result of size and the large critical mass of diverse information. High traffic and high functionality lead to unsolicited inbound links which elevates the search engine rankings and boosts traffic further. The high traffic level and concentration of brokers within that traffic generates leads for you - which is what the site is all about.

The easiest way to explain our role is to liken Broker Junction to advertising in an electronic newspaper. One that gives you as much national as local spread, and with significant international exposure. We've generated the lead and it's then up to you. Your competitors are probably listed and, in your absence, you may not get the opportunity to present your properties to the potential clients.

So, in a nutshell, we generate leads and are certainly not in competition to you. If you are a subscribed member then your website address would be listed and we would normally be driving additional traffic to your website. In addition to that, the one way link from our high traffic site to yours actually boosts your website's page relevance in Google and elevates your positioning in the Google index.

How do I change my listings or broker profile ?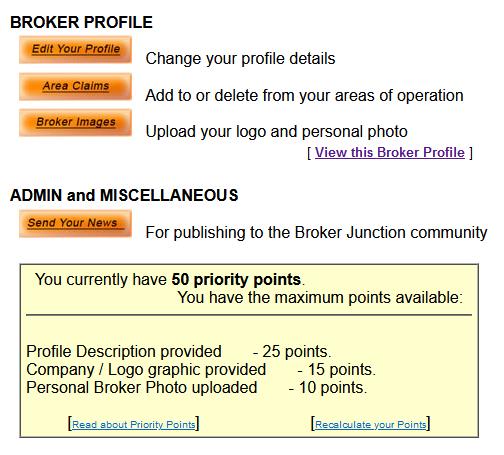 When signing up, you were able to specify a user name and login password. When at the Broker Junction Home Page you can login at top right as a participating broker. That then alters the front page to offer you access at top right to the Broker Maintenance Menu which offers the options as detailed alongside.
You can add, edit or delete property listings here, as well as making similar changes to your broker profile. You can upload up to three photographs for each property, and can also send a photograph of your brokerage's contact person and your business logo which will display automatically after the upload.
How do the Residential Estate Agency listings work ?
Our business model policy dictates that the site is established for Commercial and Industrial Property brokers to network and collaborate. Income streams are derived from advertising placed by suppliers to that sector, and it is important that the focus is maintained on C & I activities. It is for this reason that one cannot list residential properties and the services of residential agents are seen as another exclusive service.
However, if the residential agent is also a C & I broker, then it makes sense that the same profile listing can be returned in a search should visitors (including, of course, other brokers) be requiring residential agent services in a particular area.
We charge an annual fee of R475, paid in advance, to carry and administer the residential profile information. Alternatively, you can pay by debit order which costs R55 per month.
Why do you ask for my "Provincial Location" ?
To give our advertisers maximum value, and to ensure that you only see relevant information, we use a geo-targeting technique to ensure that only ads for services in your area are displayed to you. The Front (or Home) Page of the site displays ads for national Advertisers while the Inside Pages display the geo-targeted local ads for your area of operations.
After asking for your provincial location we then display the areas within that province where our advertisers have registered their service availability. Once you have indicated which areas you operate in, we save that information in a "cookie" on your PC. On this and subsequent visits to the website we will then know your specific location by reading the cookie and will offer up local services and advertisers in your area.
If you have responded to this request and provided the information but are still seeing the request on the website's inside pages, then your browser's cookie features have most likely been disabled. We would recommend turning the cookies feature back on as it is used by many websites to enhance your visitor experience.
The cookie dropped has a life of three years. If you wish to reset your areas or switch off the ad delivery then click the following link.......
No cookie is set for "Provincial Location"
What are "Area Claims" and why do I need to define them ?
A basic assumption is that the public and other brokers will search out brokers based on their geographic location. This could be defined as where their offices are, but more accurately we need brokers to define the areas in which they operate and where they claim to have good and detailed knowledge of the market.
Under the "Area Claims" section a broker can identify as many areas as are relevant. It clearly makes no sense to claim areas that you do not know, but you may be put in that position as our individual areas are quite large in an effort to keep things simple. If this is a problem we suggest that you should clearly explain your operational areas in your Broker Profile.
If you have not claimed any areas, then you will be "invisible" to anyone searching on area for broker contact details.
To access and edit your operational areas you need to [Log In] at the Home Page to access the Broker Menu from where you can add or remove areas.
---
[ HOME ] [ F.A.Q. ] [ Properties ] [ Brokers ] [ Contact Us ] [ Suggestions ]
[ Advertise ] [ Resources ] [ Premier Brokers ] [ How to Use This Site ]
---